300W/12V Magnetic Remote Mount Transformer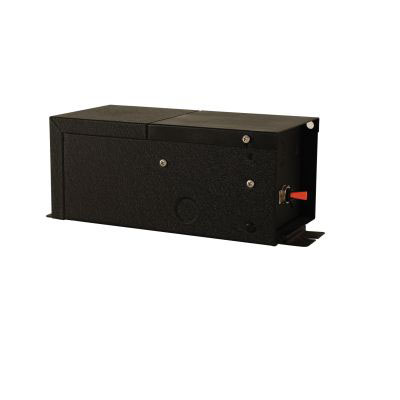 300 Watt 12 Volt Magnetic Remote Mount Transformer
Transformers convert line voltage into 12 volt power and are protected by fast-acting circuit breakers. The safe-to-touch low voltage output powers Monorail systems up to 300 watts using 12 volt lamps. All 12 volt remote magnetic transformers are LED compatible with 12 volt AC LEDs.
Power Input:
120 volts AC 2.5 Amp
230 volt AC 1.3 Amp
277 volt AC 1.1 Amp
Power Output:
12 volts AC 300 watt 25 Amp
Installation:
Remote magnetic transformers must be installed in an accessible location, such as an attic or in a closet, up to 20 feet from the power feed canopy. Plug in version available.
Dimming:
Halogen: 600 Watt Magnetic Low Voltage Dimmer. Compatible dimmers are connected on the line voltage side of transformers. Some buzzing may occur at low levels and may be reduced with a de-buzzing coil. Visit www.edgelighting.com for up-to-date LED dimming information.
Dimensions:
8.75"(L) x 4.4"(D) x 3.8"(H)
(22.2cm x 11.2cm x 9.7cm)
Weight:
8.41 lb (3.81 kg)
Compatible Power Feed Canopies:
View spec sheet for complete list

Ordering Code
T
-
300-12
-
Standard 120V
(leave blank)
T Remote Transformer
300-12 300 Watt 12 Volt
2 230V 50Hz
3 277V 60Hz
P Plug-In