Indoor Tunable White 0-10v 96 Watt LED Power Supply 24VDC Indoor Constant Voltage,
Two Channel Controls, For Intensity And Color Temperature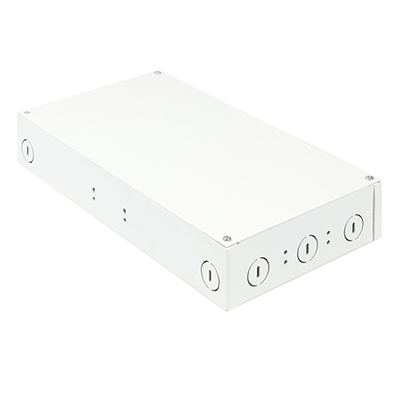 Call for Pricing
For custom design and layout assistance, send drawings to
design@PureEdgeLighting.com
.
Accepts input voltage in a range of 120 - 277VAC and outputs 24VDC power up to 96 watts. The low voltage output dims down to 1% when two additional wires are connected to a 0-10V dimmer. The enclosure provides a space inside for electrical connections. In-Wall Power Supply Kit includes power supply, box cover and stud hangers. T-Bar Mounting Kit includes power supply, box cover, and T-bar hangers for installing Junction Box above ceiling with in easy reach. Comes with 4ft of 14 gauge pair Teflon cables with quick secure connectors. Power Supply features short circuit, overload and over temperature protection.
Applications
Indoor, Damp Location
Mounting
Surface mounted with conduit access
Power Input
120-277VAC
Power Output
Class 2; 24 volts DC 4A, up to 96 watts maximum
Efficiency
90%
Ambient Operating Temperature
-25° C to 40° C
Dimming
#1 Controls the intensity. #2 Controls the Color Temperature.
0-10V (dimmer needs to be capable to dim to 0% without ON/OFF switch)
Dimming Curve
Linear, Logarithmic 100% - 0% (HydraDrive)
Compliance
Made in the USA, UL, CE, Title 28, Plenum for use in Accordance with UL 2043. JA8 compliant when used with Pure Edge Tunable White Products.

Ordering Code
Product
Wattage
Dimming
Voltage
Color
Temperature
Options
PSB
-
96W
-
010
-
24VDC
-
2XK
-
Standard
(Leave Blank)
PSB Power Supply
with Enclosure
Box with Tunable
White 0-10V
Controller
96W 96 Watt
2X96W 2x96 Watts
3X96W 3x96 Watts
4X96W 4x96 Watts

010 0-10 Volt
Dimming
24VDC 24 Volt DC
2XK Tunable White
TB T-Bar Grid Ceiling
IW* In-Wall Kit

*96 watts only
TITLE 24