Cirrus Suspension Wall Wash With Glare Shield Remote Power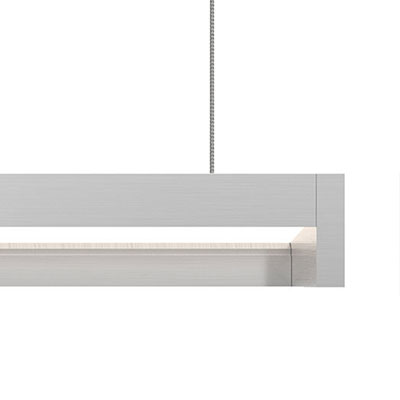 Call for Pricing
For custom design and layout assistance, send drawings to
design@PureEdgeLighting.com
.
The New Generation of our Cirrus Suspension Wall Wash with Shield is precision-engineered to block glare and illuminate vertical surfaces from the top of the ceiling to the floor at a 3.3:1 ratio. Available in 5, 7 or 10 watts per foot, with designer-grade up to 95+ CRI LEDs rendering art and colors in their truest forms. Optional Black or White Louver available for additional diffusion. Powered by Class 2, 24VDC surface power supplies that can or, a 60W ELV power supply that fits within the junction box (ordered separately). Ordered in various increments, from 12"-240". Lengths greater than 240" or making 90° turns contact us for a custom quotation. Fixtures include a 5 year pro-rated warranty. For custom designs and quotes, email our design team: design@PureEdgeLighting.com

Wattages for this fixture are available in the following options:
7W - 7.3 watts per foot, lengths up to 240" (24')
10W - 9.6 watts per foot, lengths up to 216" (18')
Installation

Remote power
Includes adjustable 12ft coaxial cables (additional aircraft cables included for support when fixture exceeds 96")
Finishes

Lenses
Diffused asymmetric wall wash lens for a smooth and uniform beam spread
Applications
Designed for indoor or damp location. Ideal environments include: Kitchens, dining rooms, hallways, conference rooms, offices, architectural and retail.
Lamping

Choose from 6 color temperatures
50,000 Hour Lamp Life
Remote Power Supplies*, Dimmers & Controls (Sold Separately)

60 Watt (fits in J-box), 100 Watt Class 2
Electronic Low Voltage Dimming (ELV)
Universal Power Supply: Universal Dimming (TRIAC, ELV, 0-10V) with corresponding dimmer
0-10 Volt Dimming (0-10V)
Lutron Hi-Lume®
*In-Wall Mounting Kits available for select power supplies


†

ELV power supplies are not compatible with nLight, use only 0-10 volt or Uni driver power supplies
Approvals
Damp Location, ETL Listed, Class 2 wiring
Assembled in America
Patent Pending
Ordering Code
System
Wattage Per Foot
Canopy
Nominal Size
Color Temperature
Finish
CSWSHL
-
7W
-
4R
-
240
-
22K
-
SN
CSWSHL Cirrus Suspension Wall Wash with Glare Shield Left Remote Power Feed
CSWSHR Cirrus Suspension Wall Wash with Glare Shield Right Remote Power Feed
CSWSHWL Cirrus Ceiling with Glare Shield Wall Wash with White Louver, Left Remote Power Feed
CSWSHWR Cirrus Ceiling with Glare Shield Wall Wash with White Louver, Right Remote Power Feed
CSWSHBL Cirrus with Glare Shield Wall Wash with Black Louver, Left Remote Power Feed
CSWSHBR Cirrus with Glare Shield Wall Wash with Black Louver, Right Remote Power Feed
5W 5 Watt (240" max, 20ft)
7W 7.3 Watt (144" max, 12')
10W 9.6 Watt (120" max, 10')
2R 2.8" Round Canopy
2S 2.8" Square Canopy
4R 4.6" Round Canopy
4S 4.6" Square Canopy
VR 4.6" Square Split Canopy
12-240 Order in various increments from 12" to 240".
Maximum shipping length is 120"

*See length chart for exact dimensions (pg. 2)
22K 2200K Amber White
24K 2400K Very Warm White
27K 2700K Incandescent White
27D 2700K Warm Dim (5W only)
30K 3000K Warm White
30D 3000K Warm Dim (5W only)
35K 3500K Neutral White
40K 4000K Cool White
57K 5700K Daylight White
BK Satin Black
BZ Antique Bronze
SN Satin Nickel
WH White
XX Custom Finish