Verge Door Frame Build-It-Yourself 24VDC Plaster-In LED System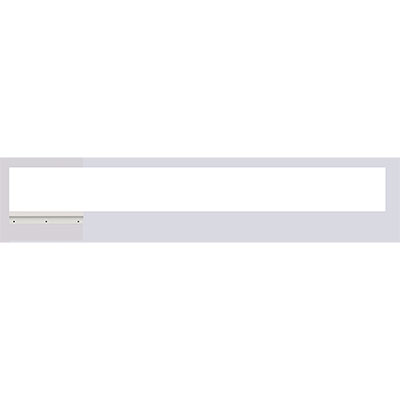 Verge Door Frame BIY (Build-It-Yourself) is a 24VDC linear system, with a slim plaster-in aluminum extrusion, and a 4" paintable aluminum backer plate. it mounts directly to studs without joist modification and plasters into 5/8" or thicker drywall. Fixture emits ambient light for dramatic illumination around door frame. It comes with several color temperature options, including 2200K-5700K (ELV/010), Warm Dim (ELV), Tunable White (ELV/010/DMX), RGB and RGB+W (DMX). High CRI commercial-grade White or Dynamic Color Changing LED Soft Strip projects a clean line of light. Coordinate installation with electrician and drywall contractors. Includes a 5 year pro-rated warranty.
Design Note
Verge Door Frame BIY can be installed around a door frame of any size. Ambient and harmonious, the plaster-in LED system blends into 5/8" thick drywall to enhance the contemporary aesthetic of interior spaces. Verge offers unsurpassed flexibility that transforms interiors into thoughtful, unique works of art.
Applications
Indoor damp or dry locations only. Wall or Ceiling mount used in Corners, Coves, Windows, Skylights for Hospitality, Retail, and Residential
Lamp:
The average LED Life is 50,000 hours.

Lumen values are based on the 3000K LED test
Remote Power Supplies*, Dimmers & Controls (Sold Separately)
Electronic Low Voltage Dimming (ELV)†
0-10 Volt Dimming (0-10V)
Dynamic Color Changing (DMX)
*In-Wall Mounting Kits available for select power supplies
†With N-Lite Dimming Do Not use ELV power supplies, use only 0-10 volt or Uni drivers power supplies
Assembled in America