Zip LED BIY (Build It Yourself) Ceiling / Wall With Remote Power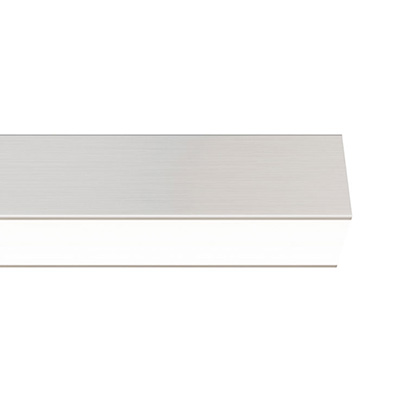 Call for Pricing
For custom design and layout assistance, send drawings to
design@PureEdgeLighting.com
.
ZIP LED BIY (Build-It-Yourself) Ceiling/Wall LED System allows the Designer to create more complex configurations using Pre-Formed Components and connectors which simplify the installation process. The versatile 24VDC linear LED system creates a glare-free line of architectural lighting. The system mounts to a wall or ceiling with mounting clips and small junction box provided. The ZIP Wall/ Ceiling Channel and Lens are sold in 4', 5', 8', and 10' increments. LED Soft Strip is sold in 1' increments up to 40' for 2.5 watt strip. The LED Soft Strip is field-cuttable every 2.4" for Tunable White-Human Centric (2K4K) and static white CCT LED Soft Strip. Field cuttable every 3.0" for Warm Dim - Dynamic White, RGB and RGB+W applications. Includes a 5 year pro-rated warranty.
Applications:
Indoor damp or dry locations only. General illumination and architectural accent at top of ceiling for room wrapping or wall to ceiling for Kitchens, Offices, Hospitality, Retail, and Residences
Lamp:
The average LED Life is 50,000 hours.

Lumen values are based on the 3000K LED test.
Room Wrapping Design Note:
Zip Ceiling/Wall can be installed on a horizontal single surface around the perimeter of a room, or on a vertical wall surface then turning across the ceiling. Add BIY Pre-Formed Components to create desired Room Wrapping Installations.

Room Wrapping is the style of installation in which the electrician may miter-cut 45° inside and outside angles in the field. The LED Soft Strip is installed flat on the back of the channel and bends within inside or outside corners for seamless light across surfaces.
Pre-Formed Components:
Channel and Lens, Power and Non-Power End Caps, and Channel Joiner
Assembled in America
24VDC 0-10V Power Supply (Sold Separately):
24VDC 0-10V Power Supply Comparison Chart
PSB-25W-010-24VDC 25 Watt 24 Volt DC Power Supply
PSB-60W-010-24VDC 60 Watt 24 Volt DC Power Supply
PSB-96W-010-24VDC 120-277VAC input, 96 watt output
PSB-2X96W-010-24VDC 120-277VAC input, 2x96 watt output
PSB-3X96W-010-24VDC 120-277VAC input, 3x96 watt output
PSB-4X96W-010-24VDC 120-277VAC input, 4x96 watt output
PSB-200W-010-24VDC 120-277VAC input, 200W watt output
24VDC ELV Power Supply (Sold Separately):
24V ELV Power Supply Comparison Chart
PS-60L-ELV-24VDC 60 Watt 24 Volt DC Power Supply
PSB-60W-ELV-24VDC 120VAC input, 60 watt output
PSB-2X60W-ELV-24VDC 2x60 Watt 24 Volt DC Power Supply
PSB-100W-ELV-24VDC 120VAC input, 96 watt output
PSB-2X100W-ELV-24VDC 120VAC input, 2x96 watt output
PSB-3X100W-ELV-24VDC 120VAC input, 3x96 watt output
PSB-4X100W-ELV-24VDC 120VAC input, 4x96 watt output
24VDC DMX Compatible Power Supply (Sold Separately):
24VDC DMX Compatible Power Supply Comparison Chart
PS-25W-24VDC (25W output)
PSB-100W-24VDC-RGB (100W output)
PSB-2X100W-24VDC-RGB (2X100W output)
PSB-3X100W-24VDC-RGB (3X100W output)
PSB-4X100W-24VDC-RGB (4X100W output)
PSB-100W-24VDC-DALI (100W output)
Lutron Hi-Lume® (Sold Separately): Comparison Chart
L3D0-96W24V-U
*Remote Power Supplies, Dimmers & Controls (Sold Separately):
Electronic Low Voltage Dimming (ELV)
0-10 Volt Dimming (0-10V)
Lutron Hi-lume®
DMX: Dynamic Color
Triac: S2-L Single Pole 2K4K
*In-Wall Mounting Kits available for select power supplies