Tie Stix 2-Light Wall Indirect 24VDC LED Horizontal With Power - Warm Dim LED Technology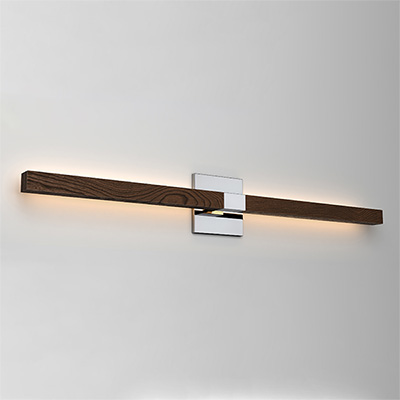 The Tie Stix wall 2-light Indirect fixture features an indirect light that illuminates at a 100 degree beam spread. Offered in a variety of static white options ranging from 2000K to 5700K. PureEdge's Warm Dim technology offers the latest advancements in LED technology. The Dim-To-Warm soft strip light engine comes in two color temperatures 27(D) dims from 2700K to 2000K or 30(D) dims from 3000K-2000K. Nominal sizes range from 15 to 70 inches, with a variety of mounting option.
Electrical:

Power Supply Optons:
TXW2-120V24VDC; electronic low voltage power supply fits in junction box (included).
TXW2R-120/277V- 24VDC Remote, Class 2 power supply (Sold Separately).
Power Consumed:
5 watts per foot
LEDs Per Foot:
Static CCT = 35. Warm Dim 35 + 35 = 70.
Average LED Life:
60,000 hrs @ normal usage
Dimming:
TXW2
ELV Dimmer with Power Supply in J-BOX
TXW2R
Remote Power, Universal Dimming (TRIAC, ELV, 0-10V)
Approvals:
Damp Location, ETL listed, Title 24 Compliant with TXW2NR ordering code with remote power supply (Order Separately), Class 2 wiring, Made in America.
Physical Attributes:

Mounting Options:
Mounts Horizontal or Vertical
4SQ: Canopy Mounts to standard 4" electrical box with round plaster plate.
2RE: Canopy Mounts to standard 4" electrical box with single gang plaster ring or single gang electrical box.
1RE: Canopy Mounts to slim profile junction box (included) recommend for new construction application
Ordering Increments:
See ordering code for nominal and exact sizes.
Max length:
70 inches, custom available
Material:
Real hardwood channels maple, walnut, cherry, white oak, and espresso. Aluminum channels and hardware are made from high grade aluminum and finished
Compliance:
ADA, ETL, Title 24
Warranty:
PureEdge's 5 year pro-rated warranty is back by over 30 years of precision lighting manufacturing and design.
Applications:
Hospitality, Hotels, Retail, Flagship Stores, High Rises, Condo Buildings, Residential Vanity or Wall
*Dynamic/Tunable white please see tie stick 2K4K variable white spec sheet.
Made in America


Ordering Code: Static White
System
Wattage
Per Foot
Canopy
Length in Inches Nominal Size
Color Temperature
Canopy &
Hardware Finish
Channel Finish
TXW2N
-
5W
-
4SQ
-
70
-
24K
-
S
WM
TXW2N Tie Stix Wall 2-Light Indirect
TXW2NR Tie Stix Wall 2-Light Indirect
Remote Power Supply, UNI
Driver, Title 24
Order Separately pg 5-7
5W 5 Watt

4SQ 4.6" Square
1RE 1" Rectangle with Junction Box
2RE 2" x 4" Rectangle


Nominal Light
Length
15
17
22
29
34
46
58
70
Exact Length
Wood Finish
15.9
18.3
23.1
30.3
35.1
47.1
59.1
71.1
Exact Length
Metal Finish
15.5
17.9
22.7
29.9
34.7
46.7
58.7
70.7

20K 2000K Sunset White
22K 2200K Amber White
24K 2400K Very Warm White
27K 2700K Incandescent White
27D 2700K Warm Dim
30K 3000K Warm White
30D 3000K Warm Dim
35K 3500K Neutral White
40K 4000K Cool White
57K 5700K Daylight White
S Satin Nickel
C Chrome
Z Antique Bronze
B Satin Black
W White
WM Wood Maple
WN Wood Walnut
WC Wood Cherry
WO Wood White Oak
WE Wood Espresso
BK Satin Black
BZ Antique Bronze
CH Chrome
SN Satin Nickel
WH White
SB Satin Brass
Ordering Code: Warm Dim
System
Wattage
Per Foot
Canopy
Length in Inches Nominal Size
Color Temperature
Canopy &
Hardware Finish
Channel Finish
TXW2N
-
5W
-
4SQ
-
70
-
24K
-
S
WM
TXW2N Tie Stix Wall 2-Light Indirect
TXW2NR Tie Stix Wall 2-Light Indirect
5W 5 Watt

4SQ 4.6" Square
1RE 1" Rectangle with Junction Box
2RE 2" x 4" Rectangle


Nominal Light
Length
15
18
21
27
33
45
57
69
Exact Length
Wood Finish
16.5
19.5
22.5
28.5
34.5
46.5
58.5
70.5
Exact Length
Metal Finish
16.1
19.1
22.1
28.1
34.1
46.1
58.1
70.1

20K 2000K Sunset White
22K 2200K Amber White
24K 2400K Very Warm White
27K 2700K Incandescent White
27D 2700K Warm Dim
30K 3000K Warm White
30D 3000K Warm Dim
35K 3500K Neutral White
40K 4000K Cool White
57K 5700K Daylight White
S Satin Nickel
C Chrome
Z Antique Bronze
B Satin Black
W White
WM Wood Maple
WN Wood Walnut
WC Wood Cherry
WO Wood White Oak
WE Wood Espresso
BK Satin Black
BZ Antique Bronze
CH Chrome
SN Satin Nickel
WH White
SB Satin Brass