Stomp Strip Snap And Light (2.5W, 5W & 7W) 24VDC Static White, Warm Dim & Tunable White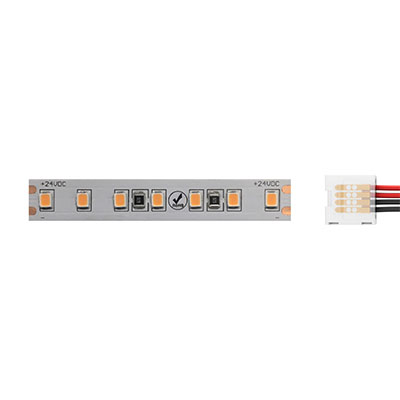 Can't Stomp Me Out
Our Low Voltage DIY (Design-It-Yourself) Stomp Strip is value engineered and highly durable, designed to withstand the harsh elements of a job site, including stomping and twisting. Stomp Strip is used for our DIY Light Channels.
Features and Benefits

Snap & Light Solderless Connectors reduce time and labor during installation
Value Engineered: Developed to meet popular demand for cost effective illumination without sacrificing output, color rendering and efficacy
Tolerance: Created to resist damage in rigorous environments such as busy commercial jobsites
Compact LED spacing: Produce uniform light distribution without visible diodes or hot spots when used within a diffused lens
4oz Layer of Copper Busbar: Provides superior heat dissipation and less voltage drop equivalent to 14AWG wire
Premium Coating: Optically Clear Silicone prevents fading over time
Mounting: Industrial 3M tape lined strip for strong, self-adhesion to most smooth, finished surfaces
Applications: Indoor, damp and dry locations
Warranty: Includes a 5-year pro-rated warranty
Specifications

24VDC, 120-277VAC Input
2.5, 4.4 or 7.3 watts per foot
Sold in 1 foot increments
Field-cuttable increments: Static White 2.4", Warm Dim and Tunable White 3"
Operating temperature: -22°F to 140°F (-30°C to 60°C)
Lamp

7 Static White Color Temperatures 22K-57K
Warm Dim: 27D and 30D dim down to 2000K, resembling incandescent light sources
Tunable White: 2K6K (2000K-6500K) and 27K6 (2700K-6500K)
Average life: 50,000 hours
Remote Power Supplies*, Dimmers & Controls (Sold Separately)

Electronic Low Voltage Dimming (ELV)

†

Uni Driver: Universal dimming (ELV, 0-10V, TRIAC)
0-10 Volt (0-10) Dimming
Color Changing (DMX)
Lutron Hi-Lume®
*In-Wall Mounting Kits available for select Power Supplies


†

ELV power supplies are not compatible with nLight, use only 0-10 volt. Universal driver or Lutron Hi-Lume® power supplies
Maximum Lengths Before Re-feeding

2WDC, 2.5 watts per foot - 40' (Excludes Warm Dim)
5WDC, 4.4 watts per foot - 20'
7WDC, 7.3 watts per foot - 12' (Excludes Warm Dim)
Required Components (Sold Separately)

Remote Power Supply
Snap & Light Power Connector
Accessories (Sold Separately)

24VDC Solderless Snap & Light Jumper Connector
Mounting Straps & Clips
Approvals
Class 2 Wiring up to 100 watts, Damp Location Suitable, ETL listed.
*27D, 30D - Warm Dim (4.8 Watts)
Assembled in America
Ordering Code
System
Voltage
Length in Feet
Color Temperature
ST2A
-
24V
-
40
-
27K
ST2A Stomp Strip, 2.5 watts (40ft Max)
ST5A Stomp Strip, 4.4 watts (20ft Max)
ST7A Stomp Strip, 7.3 watts (12ft Max)
24V 24 Volt
1-40
22K 2200K Amber White
24K 2400K Very Warm White
27K 2700K Incandescent White
27D 2700K Warm Dim (5W only)
30K 3000K Warm White
30D 3000K Warm Dim (5W only)
35K 3500K Neutral White
40K 4000K Cool White
57K 5700K Daylight White
2K6K Tunable White 2000K-6500K
27K6 Tunable White 2700K-6500K