SS5C Warm Dim Soft Strip, 5W 24VDC High Output, Commercial Grade (92+CRI)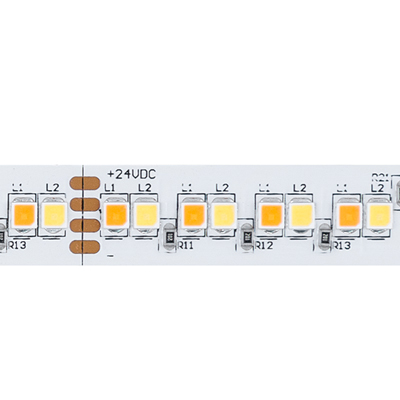 SS5C Warm Dim Soft Strip provides adaptable light with high CRI LEDs, offering superior color rendering and enhanced color. Warm Dim options are 2700K (27D) or 3000K (30D) at 100% and dim to 2200K. The 1/2" wide flexible copper strip, with an optically clear protective coating, is sold in 1 ft increments up to 20 feet may be cut every 3 inches. Snap & Light Power Connector is required and is sold separately (pages 3-4). Additional Snap & Light Connectors (pages 3-4) are available for making turns and custom configurations. At only 5 system watts per foot, the 24 volt system is only compatible with electronic low-voltage power supplies (sold separately). Self-adhering SS5C mounts to most smooth finished surfaces with industrial strength 3M tape (provided on back of strip); some unfinished surfaces may require screw-in mounting clips (sold separately). Soft Strip is compatible with solderless Snap & Light Connectors. Fixtures include a 5 year warranty.
Applications:
Indoor/Damp Location - Cove, retail, hotel and display. ETL listed to conform to UL 2108 for closet and under-cabinet applications.
Lamp:

Watts
per Foot
Color Temp.
CRI
Lumens
per Watt
Lumens
per Foot
50,000 Hour
Lamp Life
5
2700K-2200K
92+
77
384
•
5
3000K-2200K
92+
73
365
•
24VDC Power Supply (sold separately):
24V ELV Power Supply Comparison Chart
PSB-60W-ELV-24VDC 120VAC input, 60 watt output
PSB-100W-ELV-24VDC 120VAC input, 96 watt output
PSB-2X100W-ELV-24VDC 120VAC input, 2x96 watt output
PSB-3X100W-ELV-24VDC 120VAC input, 3x96 watt output
PSB-4X100W-ELV-24VDC 120VAC input, 4x96 watt output

Dimming:
ELV power supplies use ELV dimmer: Legrand, Adorne ADTP703TU;
Lutron: Diva DVELV-300P, Skylark SELV-300P, Maestro MAELV-600 and
Radio Ra 2
LENGTH
IN FEET
TOTAL
WATTAGE
1
5
2
10
3
15
4
20
5
24
6
29
7
34
8
39
9
44
10
48
11
53
12
58
13
63
14
68
15
72
16
77
17
82
18
87
19
92
20
96

Ordering Code
System
Voltage
Length in Feet
Color Temperature
SS5C
-
24V
-

20

-

27D

SS5C Soft Strip Commercial 5W per Ft
24V 24 Volt
Sold in 1ft increments up to 20 ft (Example 20=20')
27D 2700K Warm Dim
30D 3000K Warm Dim