PL5C & PL10C Pure Pin Modular LED Dynamic/Tunable White Soft Strip 2K4K Human Centric Lighting, 24VDC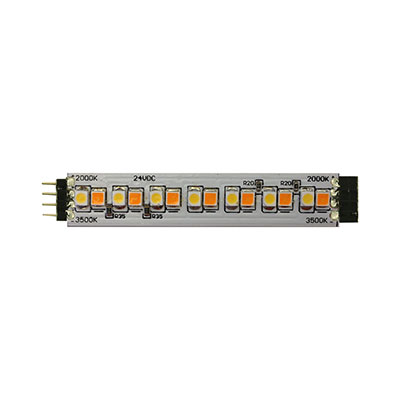 Call for Pricing
For custom design and layout assistance, send drawings to
design@PureEdgeLighting.com
.
PureEdge's Dynamic/Tunable White Modular LED Soft Strip provides variable white color using the latest in LED technology Dynamic/Tunable White, giving you control over the color temperature from 2000K (Sunset) to 4000K (Cool White) independent from the level of brightness. Use with two dimmers or, our proprietary Tunable White Controller for fast and accurate adjustment with three pre-set scenes. Support health, performance, and overall well-being using Human-Centric lighting by fine-tuning the biological effects that light has on the circadian cycle. Soft Strip includes a 5-year pro-rated warranty when used with recommended power supplies. Remote power supplies sold separately.
LEDS
Cut or order to length every 2.4"
Maximum length of 20ft
50,000 Hour Average Lamp Life
Applications Designed for indoor use only. Ideal applications in Residential, Commercial, Retail, and Hospitality environments.
Universal Power Supplies
PSB-2X40W-UNI-24VDC 120-277VAC input 2x40w Output
PSB-2X60W-UNI-24VDC 120-277VAC input 2x60w Output
PSB-2X96W-UNI-24VDC 120-277VAC input 2x96w Output
PSB-4X96W-UNI-24VDC 120-277VAC input 4x96w Output
Remote Power Supplies*, Dimming & Controls (Sold Separately)
Power:
24VDC Class 2 wiring, 2x 120V/24V UNIVERSAL Remote Power Supplies (Triac, ELV or 0-10V)
Dimming*:
Dual Universal Dimming (TRIAC, ELV, 0-10V), Lutron Hi-Lume®, DALI or DMX
Power Consumed:
5 or 10 watts per foot
*In-Wall Mounting Kits available for select power supplies
**Dynamic/Tunable White- Requires two dimmers (one for 2000K and one for 4000K) or use our proprietary Tunable White Controller CDMX-1
†PL10C is not compatible with Truline products.
Assembled in America


Ordering Code
System
Voltage
Length in Feet
Color Temperature
PL5C
-
24V
-
20
-
2K4K
PL5C Pure Modular Commercial Soft Strip 4.4 watts per foot
PL10C Pure Modular Commercial Soft Strip 10 watts per foot

24V 24 Volt
1-10 Sold in 1 ft increments up to 10ft (Example 10=10')
1-20 Sold in 1 ft increments up to 20ft (Example 20=20')

2K4K Tunable White 2000K-4000K
TITLE 24