24VDC Outdoor LED Soft Strip - Commercial Static White (2, 5 Watt)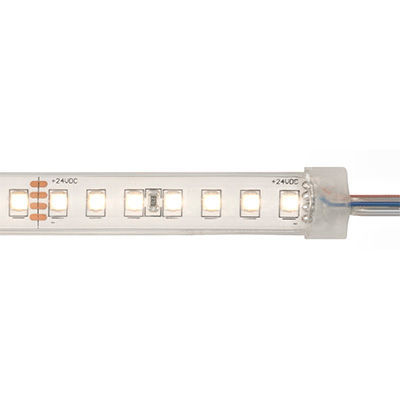 Call for Pricing
For custom design and layout assistance, send drawings to
design@PureEdgeLighting.com
.

Power Supply Price List
Features & Benefits

24VDC LED Soft Strip offers 7 White Color Temperatures including 2700K and 3000K warm dim to 2000K all with High CRI
7 LEDs per cutting increment provides 87.5% efficiency compared to 6 LEDs at 75%
35 LEDs per foot provide uniform light distribution without dots when using a Diffuser Lens. 70 LEDs per foot with Warm Dim
4oz of Copper provides better heat dissipation, less voltage drop
Premium, optical Silicone Coating does not fade
Water tight screw solderless connections reduce labor during installation
Solid State Power Supply offers 85-90% efficiency compared to magnetic at 80%
5 year warranty included
Specifications

24VDC LED Soft Strip with 160° Beam Angle
Available in 2.5 and 4.4 Watts
Order in 1-40 foot increments, may be custom ordered by the inch (Outdoor)
Class 2 Wet Listing
Mounting

U-STRAP # SS-SU - included 1 per foot with each order.
Lamp:
The average LED Life is 50,000 hours.

SYSTEM
SS2C
SS5C
WATTS PER FOOT
2.5W
4.4W
COLOR TEMPERATURE
22K
24K
27K
30K
35K
40K
57K
22K
24K
27K
30K
35K
40K
57K
LUMENS PER FOOT
235
261
287
313
358
398
407
294
368
359
392
449
488
519
LUMENS PER WATT
75
77
92
100
115
127
130
67
81
82
89
102
111
118
CRI
85+
90+
95+
95+
85+
85+
85+
85+
90+
95+
95+
85+
85+
85+
Rf
83.9
85
87.7
88.1
86.1
87.6
80.3
83.9
85.2
87.7
88.1
86.1
87.6
80.3
Rg
94.9
97.4
96.1
99.7
95.5
96.8
91.5
94.9
97.4
96.1
99.7
95.5
96.8
91.5
LEDS PER FOOT
35
35
35
35
35
35
35
35
35
35
35
35
35
35
MAX RUN LENGTH
40ft
40ft
40ft
40ft
40ft
40ft
40ft
20ft
20ft
20ft
20ft
20ft
20ft
20ft
Applications

Outdoor wet locations
Display, Coves, Toe-Kicks, Pathway, Accent Lighting, Task Lighting, and General Illumination
Required Components (Sold Separately)

Accessories (Sold Separately)

Outdoor Connection Box
Mounting Straps & Clips (Included #SS-SU 1 per foot with each order)
Remote Power Supplies*, Dimmers & Controls (Sold Separately)

Electronic Low Voltage Dimming (ELV)
0-10 Volt Dimming (0-10V)
Lutron Hi-lume®
*In-Wall Mounting Kits available for select power supplies
Outdoor power supplies required for Wet Location LED Soft Strip
Assembled in America

Ordering Code
System
Voltage
Length in Feet
Color Temperature
Options
SS2C
-
24V
-
10
-
27K
-
W
SS2C LED Soft Strip Commercial 2.5 Watts per foot
SS5C LED Soft Strip Commercial 4.4 Watts per foot
24V 24 Volt
1-40 For SS2C 2.5 Watt
1-20 For SS5C 4.4 Watt

*May be custom ordered in 3", 5", 8", or 10" increments
22K 2200K 90+ CRI
24K 2400K 90+ CRI
27K 2700K 90+ CRI
27D 2700D Warm Dim 90+ CRI
30K 3000K 90+ CRI
30D 3000D Warm Dim 90+ CRI
35K 3500K 90+ CRI
40K 4000K 90+ CRI
57K 5700K 90+ CRI

W Wet Location