Rocky Ceiling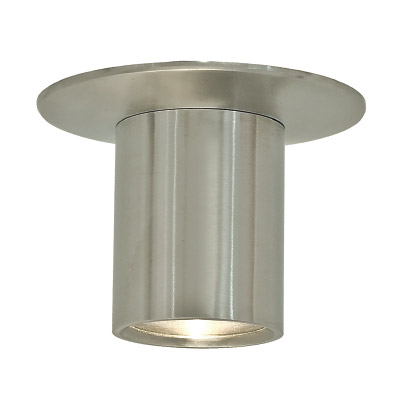 Rocky is a ceiling mount accent and general downlight, featuring high temperature silicone o-rings that create a watertight seal. Machined from marine grade 316 stainless steel or 6061 aluminum brushed to a satin finish. Rocky Ceiling is available in Low Voltage (H1) and Line Voltage (H2) halogen versions. A removable, lockable shield with fasteners retains a glass lens and a louver accessory. It is rated for indoor, outdoor, and wet locations.
Finish:
H1: Brushed Stainless Steel
H2: Satin Aluminum
Lamp Specification:
HALOGEN (H1)
Lamp Included; 20 Watt MR16 GU5.3 base
HALOGEN (H2)
Lamp Included; 35 Watt Line Voltage MR16 (PAR16) GU10 base
Total Wattage:
H1 20W - 12V
H2 35W - 120V
Dimming Information:
H1 Low Voltage Electronic
H2 Incandescent
Weight:
2 lbs (0.9 kg)

This product is no longer available.
Ordering Code
Type
Lamp
Finish
ROC
-
C
-
H1
-
SS
C Ceiling
H1 Halogen
SS Stainless Steel
Type
Lamp
Finish
ROC
C
H2
SA
C Ceiling
H2 Halogen
SA Satin Aluminum