PSB-3X100W-ELV-24VDC Power Supply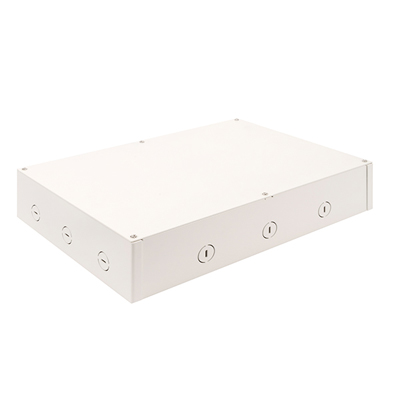 Accepts input voltage of 120VAC and outputs 24VDC power up to 3x96 watts. Can be used as a dimmable or non-dim Power Supply*. Power Supply features short circuit and overload protection. Indoor applications only.
*Electrical Panels using Seimens/Murray AFCI breakers are not compatible with this ELV transformer. Use 0-10 Volt power supplies with this breaker.
**ELV power supplies are not compatible with nLight, use only 0-10 volt or Uni driver power supplies
Applications:
Indoor*
*To avoid overheating the power supply, install it in a ventilated remote location where air flows. Maintain proper spacing among power supplies when multiple power supplies are installed in the same remote location.
Power Input:
120 volts AC, 50/60Hz
Power Output:
Class 2; 24 Volts DC 3 x 4A, 3x96 watts maximum
Dimensions:
14" x 10" x 3"
Compatible Dimmers:
Legrand: Adorne ADTP703TU; Lutron: Diva DVELV-300P, Skylark SELV-300P, Maestro MAELV-600 and Radio RA 2





96W, 24VDC LOW VOLTAGE WIRE SIZE CHART: 3% VOLTAGE DROP

WIRE LENGTH (FT)
UP TO 33'
34'–52'
53'–86'
87'–130'
WIRE SIZE
14 AWG
12 AWG
10 AWG
8 AWG
VOLTAGE AT END OF WIRE
23.28VDC
23.29VDC
23.28VDC
23.28VDC
Ordering Code
Product
Wattage
Dimming
Voltage
PSB
-
3X100W
-
ELV
-
24VDC
PSB Power Supply
with Enclosure Box
3X100W 3X96 Watts
ELV Electronic Low-Voltage
24VDC 24 Volt DC