PSB-60W-ELV-24VDC, 60 Watt LED 24 Volt DC Power Supply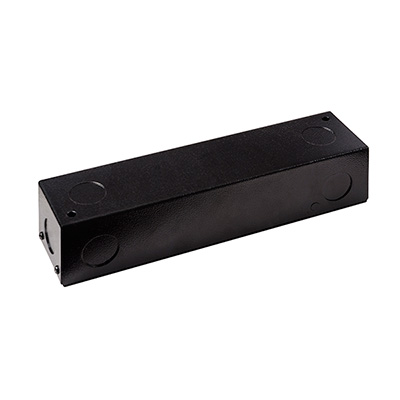 60W, 24VDC LOW VOLTAGE WIRE SIZE CHART: 3% VOLTAGE DROP

WIRE LENGTH (FT)
UP TO 53FT
54FT-82FT
83FT-137FT
138FT-208FT
WIRE SIZE
14 AWG
12 AWG
10 AWG
8 AWG
VOLTAGE AT END OF WIRE
23.29VDC
23.28VDC
23.28VDC
23.28VDC
LED power supplies transform and regulate power from a line voltage power source into low voltage power for use with LED lighting. The power supply accepts input voltage of 120 volts AC and outputs 24 volts DC power up to 60 watts. The low voltage output may be dimmed using an electronic low voltage dimmer (sold separately). The aluminum enclosure allows electrical connections to be made inside the box. Knockouts are provided for use with 1/2" conduit. Power Supply features short circuit and overload protection.
Applications:
Indoor*
*To avoid overheating the power supply, install it in a ventilated remote location where air flows. Maintain proper spacing among power supplies when multiple power supplies are installed in the same remote location.
Power Input:
120 volts AC, 60Hz
Power Output:
Class 2; 24 volts DC 2.5A 60 watt maximum
Dimensions:
8.125" x 2" x 1.75"
Dimmer Type:
Electronic Low Voltage Dimmer Lutron: Diva #DVELV-300P;
Skylark #SELV-300P; Maestro #MAELV-600


Ordering Code
Product
Wattage
Dimming
Voltage
PSB
-
60W
-
ELV
-
24VDC
PSB Power Supply
with Enclosure Box
60W 60 Watt LED
ELV Electronic Low Voltage
24VDC 24 Volt DC