PSB-2X96W-010-24VDC, 2x96 Watt 24 Volt DC Power Supply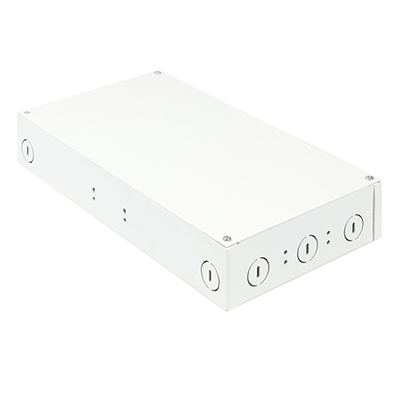 Accepts input voltage in a range of 120 - 277VAC and outputs 24VDC power up to 2x96 watts. Can be used as a dimmable or nondim Power Supply. The low voltage output dims down to 7% when two additional wires are connected to a 0-10V dimmer. In-Wall Power Supply Kit includes Power Supply, box cover and stud hangers for installing Junction Box in wall. Power Supply features short circuit and overload protection. Indoor applications only.
Applications:
Indoor*
*To avoid overheating the power supply, install it in a ventilated remote location where air flows. Maintain proper spacing among power supplies when multiple power supplies are installed in the same remote location.
Power Input:
120-277 volts AC, 50/60Hz
Power Output:
Class 2; 24 volts DC 2x4A, 2x96 watts maximum
Dimensions:
PSB-2X96W-010-24VDC: 12.15" x 6.48" x 2.18"
PSB-2X96W-010-24VDC-IW: 14" x 8.5" x 4.3"
Dimmer Type:
Dimmable with Philips Sunrise SR1200ZTUNV, 0-10V dimmer. See fixture spec sheet or dimming chart for additional details.


Ordering Code
Product
Wattage
Dimming
Voltage
Options
PSB
-
2X96W
-
010
-
24VDC
-
Standard
(Leave Blank)
PSB Power Supply
with Enclosure Box
2X96W 2x96 Watt
010 0-10 Volt Dimming
24VDC 24 Volt DC
IW In-Wall Kit