PSB-25W-010-24VDC, 25 Watt 24 Volt DC Power Supply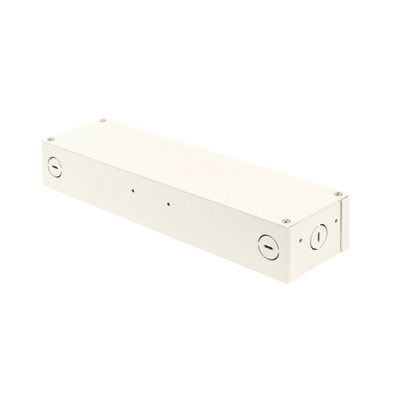 Accepts input voltage in a range of 120 - 277VAC and outputs 24VDC power up to 25 watts. Can be used as a dimmable or non-dim Power Supply. The low voltage output dims down to 7% when two additional wires are connected to a 0-10V dimmer. The enclosure provides a space inside for electrical connections. In-Wall Power Supply Kit includes power supply, box cover and stud hangers for installing Junction Box in wall. Power Supply features short circuit and overload and over temperature protection. Indoor applications only.
Applications: Indoor*
*To avoid overheating the power supply, install it in a ventilated remote location where air flows. Maintain proper spacing (6") among power supplies when multiple power supplies are installed in the same remote location.
Mounting:
Recessed mounted with conduit access
Power Input:
120-277VAC
Power Output:
Class 2; 24 volts DC 1A, 25 watts maximum
Efficiency:
85%
Dimensions:
PSB-25W-010-24VDC: 12.4" x 3.12" x 2.18"
PSB-25W-010-24VDC-IW: 14.25" x 5.1" x 2.1"
Ambient Operating Temperature:
-25C to 40C
Dimmer Type:
Lutron: Radio Ra2 (with GRX-TVI), Grafik Eye Qs (with GRX-TVI),
DVTV Dimmer from Lutron: Nova T
Lightolier Philips Signify: Sunrise SR1200ZTUNV
Leviton: IP710-DLZ
Dimming Curve:
Linear, Logarithmic 100% - 7% (HydraDrive)
Assembled in America

Ordering Code
Product
Wattage
Dimming
Voltage
Options
PSB
-
25W
-
010
-
24VDC
-
Standard
(Leave Blank)
PSB Power Supply with Enclosure Box
25W 25 Watt
010 0-10 Volt Dimming
24VDC 24 Volt DC
IW In-Wall Kit
(14.25" x 5.1" x 2.1")