PSB-100W-24VDC-RGB, 100 Watt 24 Volt DC Power Supply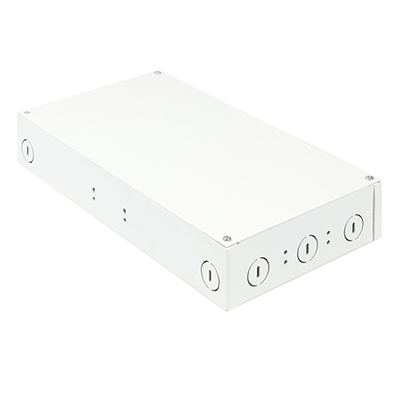 Accepts input voltage in a range of 120 - 277VAC and outputs 24VDC power up to 100 watts. The integrated RGB Driver receives signals from CDP, CTP, CDMX1-RGBW, or CDMX1-2XK to control RGB color mixing and light intensity. Power Supply features short circuit and overload protection. Indoor applications only.
Applications:
Indoor*
*To avoid overheating the power supply, install it in a ventilated remote location where air flows. Maintain proper spacing among power supplies when multiple power supplies are installed in the same remote location.
Power Input:
120-277VAC, 50/60Hz
Power Output:
Class 2; 24 volts DC 2x4.16A at 100 watts maximum
Dimensions:
12.14" x 6.48" x 2.18"
Compatible Controllers:
Touch Screen Controller with Power Supply (CTP), Color Dial Controller with Power Supply (CDP), DMX 1 Zone RGBW Touch Controller (CDMX1-RGBW), or Tunable White Touch Controller (CDMX1-2XK)


Ordering Code
| | | | | | | |
| --- | --- | --- | --- | --- | --- | --- |
| Product | | Wattage | | Voltage | | Mode |
| PSB | - | 100W | - | 24VDC | - | RGB |
| PSB Power Supply with Enclosure Box | | 100W 100 Watt | | 24VDC 24 Volt DC | | RGB Red, Green & Blue |