Nova Suspension For Monorail 120V/12VAC Fixture, 92+CRI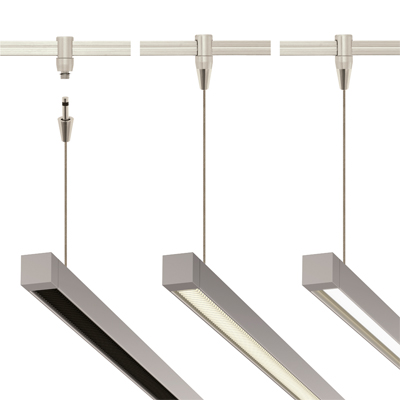 Call for Pricing
For custom design and layout assistance, send drawings to
design@PureEdgeLighting.com
.
Nova can be seamlessly integrated into Edge Lighting Monorail systems. The fixture may be mounted to ceiling rails at a 90 degree angle with use of an included ceiling anchor. Nova is a linear LED lighting fixture that features a direct milky white (no LED spots) lens and an optional louver. At 7.5 watts per foot, the 12VAC fixture contains very warm white or warm white 92+CRI LEDs. Fixture lengths are available from 12 to 120 inches. May be ordered in 3, 6 or 9 inch increments. Includes corresponding mounting hardware. Fixture features adjustable 12 foot cables for flexibility when mounting to the rail or ceiling. Fixture includes 5 year warranty. For custom designs and quotes, send drawings to design@PureEdgeLighting.com.
System Compatibility
Monorail
View Monorail Systems
Fixture Finish
Satin Nickel, Chrome, Satin Black, White
Monorail Connector Finish
Satin Nickel
Louver Options
Black Louver, White Louver, No Louver
Lamp 50,000 Hour Lamp Life
Version
Watts
per Foot
Lumens
per Watt
Lumens
per Foot
92CRI
27K, 30K
7W
7.5
34
255
•
Lumen values are based on the 3000K LED test without louver.
Applications
Indoor - conference rooms, kitchens, dining rooms, architectural lighting, general lighting and retaill
Assembled in the USA



Ordering Code
System
Product
Wattage/Voltage
Nominal Size
Color Temperature
Glass Finish
Connector Finish
M
NS
-
7W
-
120
-
27K
-
SN
SN
M Monorail
NS Nova Suspension
NSB Nova Suspension with Black Louver
NSW Nova Suspension with White Louver
7W 7.5 Watt 12 Volt AC
12 - 120 Order in 12 inch increments up to 120 inches. May be ordered in 3, 6 or 9 inch increments. Chrome 84 inches max.
27K 2700K Very Warm White
30K 3000K Warm White
SN Satin Nickel
CH Chrome
BK Satin Black
WH White
SN Satin Nickel