LED Canopy Mount Transformer Kits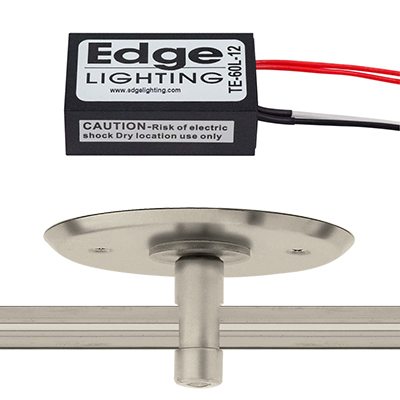 Monorail Canopy Mount LED Kit with 60W 12V electronic transformer includes everything you need for a complete system - just add fixtures. Kit includes electronic 60 watt 12 volt transformer, Monorail, appropriate quantities of 1" standoffs for every 3 feet of rail and 2 pairs of end caps. Fast acting circuit breaker on low voltage side of transformer will shut the system off in case of overload or short and can be easily reset. Satin nickel, polished nickel or antique bronze finish.
Length:
4, 8, 12, 16, 20, 24, 28 or 32 feet
1.2, 2.4, 3.7, 4.9, 6.1, 7.3, 8.5 or 9.8 meters
Standard Mounting:
Rail mounts 1" (2.5cm) from ceiling.
Dimming:
With low voltage electronic dimmer - Lutron Diva DVELV-300P recommended
Finish:
Satin Nickel, Polished Nickel or Antique Bronze

Transformer Type
Wattage
Voltage Output
Monorail Length (ML)
Finish
MTE
-
60L
-
12
-
K4
-
SN
MTE Monorail Canopy Mount
Electronic Transformer
60L 60 Watt LED
12 12 Volt
Single Feed
K4 Kit with 4' (1.2m) Monorail
K8 Kit with 8' (2.4m) Monorail
K12 Kit with 12' (3.7m) Monorail
K16 Kit with 16' (4.9m) Monorail
K20 Kit with 20' (6.1m) Monorail
K24 Kit with 24' (7.3m) Monorail
K28 Kit with 28' (8.5m) Monorail
K32 Kit with 32' (9.8m) Monorail
SN Satin Nickel
PN Polished Nickel
BZ Antique Bronze