600W/12V Dual Feed Magnetic Remote Mount Transformer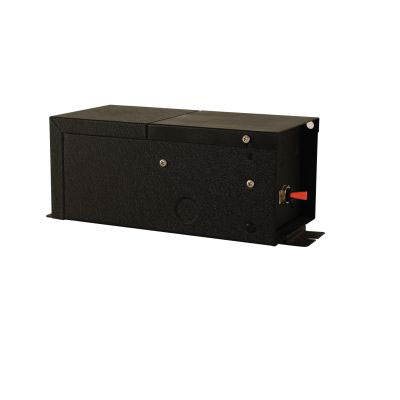 The 600 Watt 12 Volt Magnetic Remote Mount transformers convert line voltage into 12 volt power and are protected by fast-acting circuit breakers. The safe-to-touch low voltage output powers a Monorail system totaling 600 watts including two isolated 300 watt runs using 12 volt lamps. A 600 watt, 12 volt dual feed transformer should be used with a dual feed power canopy. All 12 volt remote magnetic transformers are LED compatible with 12 volt AC LEDs.
Power Input:
120 volts AC 2.5 Amp
230 volt AC 1.3 Amp
277 volt AC 1.1 Amp
Power Output:
(2x) 12 volts AC 300 watt 25 Amp
Installation:
Remote magnetic transformers must be installed in an accessible location, such as an attic or in a closet, up to 20 feet from the dual power feed canopy. Plug in version available.
Dimming:
Halogen: 1000 Watt Magnetic Low Voltage Dimmer. Compatible dimmer is connected on the line voltage side of transformers. Some buzzing may occur at low levels and may be reduced with a de-buzzing coil.
Dimensions:
9.5"(L) x 6"(D) x 4.75"(H)
(24.13cm x 15.24cm x 12cm)
Weight:
8.41 lb (3.81 kg)

Ordering Code
T
-
600-D12
-
Standard 120V
(leave blank)
T Remote Transformer
600-D12 600 Watt 12 Volt Dual Feed
2 230V 50Hz
3 277V 60Hz
P Plug-In
Low Voltage Feed Wire Size Chart
To determine the correct THHN wire sizes for a recommended 3% or less drop in voltage for each circuit based on the specified wattage. Lengths are the distance from the remote transformer to the system power feed connector, or power supply.
| | | | | |
| --- | --- | --- | --- | --- |
| 12 VOLT | 5 ft. | 6-15 ft. | 16-20 ft. | 21-40 ft. |
| 300 watt | #10 GA | #6 GA | #4 GA | #1 GA |