150W/12V Recessed Mount Electronic Transformer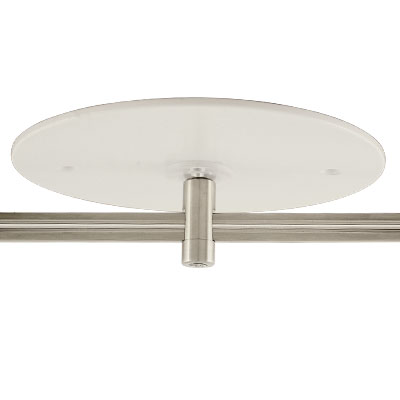 Monorail single-feed recessed can mount 150 watt electronic transformer converts line voltage to 12 volts. The transformer mounts into any recessed can with a 6-6 1/2 inch opening and "C" brackets in the inside walls. It runs Monorail sections 1" from the ceiling.
Dimmable:
With low voltage electronic dimmer
General Requirements:
1" Standoff is used with the surface mount transformer. Not extendable.
Mounting Requirements:
Maximum 150 watt, 12 volt load
Finish:
Satin Nickel, Polished Nickel or Antique Bronze.
White Canopy finish on all.
Compatible Accessories or Finished Items:
Reccessed can transformer can be used with: Juno IC2, TC2, & TC2R; HALO H7T & H7RT; Cooper Lighting H27RT, Capri (Thom as) Lighting PR75ASIC/ TPR75ASIC/DY6431; Progress Lighting P7Tg, P8Tg, & PIO8-Tg cans. Edge Lighting is not affiliated with or endorsed by any of the companies listed above.
Weight:
2 lb (.9 kg)
Patent Pending

System
Type
Power Type
Output Type
Canopy Finish
Finish
Input Type
MTE
-
RC
-
150
-
12
-
WH
-
SN
-
Standard 120V
(leave blank)
MTE Monorail Surface
Mount Electronic
Transformer
RC Recessed Can
150 Watt
12 12 Volt
Single Feed
WH White
SN Satin Nickel
PN Polished Nickel
BZ Antique Bronze
2 230 Volt