150W/12V LED Surface Mount Electronic Transformer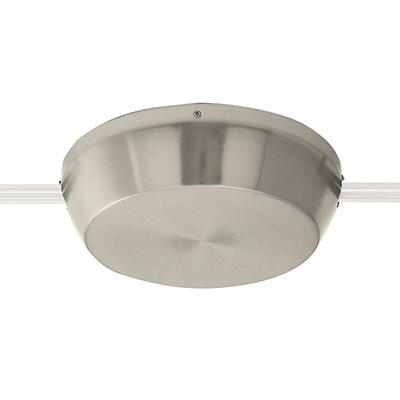 The LED Surface Mount 150 Watt Electronic Transformer provides a decorative element and powers the Monorail from an electrical box within range of the system. The compact, lightweight transformer converts 120 volts to safe-to-touch 12 volt power. The short-circuit protected transformer can be reset at wall switch in the event of a short or overload.
Rail attaches to one or both side-feed contacts using push-in conductive connectors (included). An insert is provided to cover unused side-feed contact. The transformer powers a total of 150 watt LED and/or halogen load of Monorail up to 20 feet long. Use with 1" Rigid Standoffs. For extending rail from the ceiling, up to 96", use Adjustable Power Feed MP-ME-96-SN (PN-BZ).
Power Input:
120 volts AC 1.25 amp
Power Output:
12 volt AC, 150 Watt 12.5 amps
Dimmer Used:
300 Watt Electronic Low Voltage Dimmer
General Requirements:
1" Standoff is used with the surface mount transformer.
Dimensions:
7.47"(L) x 2.36"(H)
(18.97cm x 6cm)
Finish:
Satin Nickel, Polished Nickel or Antique Bronze
Weight:
4 lb (1.8kg)

System
Power/Voltage Output
Fixture Finish
MTE
-
150L-12
-
SN


MTE Monorail Transformer
Electronic Surface Mount
150L-12 150 LED Watt 12 Volt
SN Satin Nickel
PN Polished Nickel
BZ Antique Bronze