Glide Wood Pinwheel MIYO With Remote Power, Design Your Own Static White, Warm Dim & Dynamic/Tunable White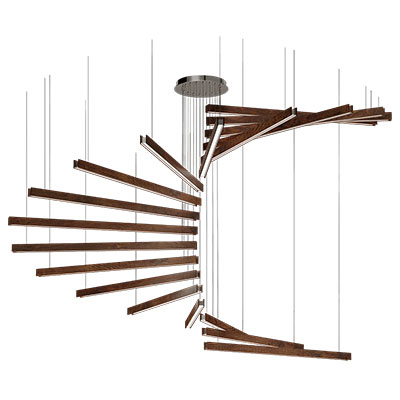 Call for Pricing
For custom design and layout assistance, send drawings to
design@PureEdgeLighting.com
.
Glide Wood Pinwheel MIYO Chandelier uses the distinctive and architectural appeal of our Glide Wood linear suspensions, masterfully suspended as they rotate around a single canopy, creating distinct compositions of form, material, and illumination. The Glide Wood suspensions provide a continuous, direct beam of light through a Diffused White 100º lens housed within genuine hardwood, giving each fixture unique characteristics while preserving a clean yet distinctive aesthetic. Offered in ten standard Color Temperatures from 22K to 57K, including Warm Dim 2700K (27D) or 3000K (30D) and Dynamic, Tunable White (2K4K) giving you full control of the color and brightness independently. Each suspension is available in six standard sizes 36", 48", 60", 72", 84", 96" as well as two wattage options or 5 and 7-watts per foot, and your choice of 12' or 22' of adjustable aircraft cable per channel. Remote Power Supply is required and sold separately. Includes a 5-year pro-rated warranty. For custom lengths and layout assistance, email our design team: design@PureEdgeLighting.com.
Remote Power Supplies*, Dimmers & Controls (Sold Separately):
UNI Driver: Universal Dimming (TRIAC, ELV, 0-10V) with corresponding dimmer
DMX: Dynamic Color Changing In-Wall Mounting
Lutron Hi-Lume®
*In-Wall Mounting Kits available for select power supplies
**Dynamic/Tunable White - Requires two dimmers (one for 2000K and one for 4000K) or use our proprietary Tunable White Controller CDMX-1
Finishes

Wood finishes are authentic natural products, exact color and grain may vary. If trying to match another wood product please request a sample. Pure Edge may be able to accommodate some requests to match COM.
Specifications:

Create your own, Mix & Match lengths or keep them all the same
Compositions: 4, 6, 8, 10, 12, 14 and 18-light
Length Options: 39"- 96" per channel
Color Temperatures: 2200K-5700K, Warm Dim - (27D, 30D) and Dynamic Tunable White (2K4K)
High CRI: Up to 95+
Diffused White 100° lens
Wattage Options: 5 and 7 watts per foot
Lumen Output: Up to 426 lm/ft
Genuine Hardwood Finishes: Maple, Walnut, Cherry, and White Oak, Wood Espresso
Installation: Fixture is suspended from a singular canopy with coaxial cable at both ends
12' or 22' of Adjustable coaxial cable per channel
Remote Power Supply: Up to 100 Watts
Applications
Designed for indoor use only. Ideal applications include Residential, Commercial, Retail, and Hospitality Environments
Approvals
Damp Location, Class 2 wiring, ETL Listed, Title 24 with Universal Power Supply, Made in America
Assembled in America

Canopy Ordering Code
Canopy
Finish
GJR-12RD-4P
-
SN
GJR-12RD-4P 12 inch round, 4 port canopy
GJR-12RD-6P 12 inch round, 6 port canopy
GJR-12RD-8P 12 inch round, 8 port canopy
GJR-12RD-10P 12 inch round, 10 port canopy
GJR-16RD-12P 16 inch round, 12 port canopy
GJR-16RD-14P 16 inch round, 14 port canopy
GJR-16RD-18P 16 inch round, 18 port canopy

BK Satin Black
CH Chrome
SN Satin Nickel
WH White
TITLE 24
Fixture Ordering Code
System
Wattage
Per Foot
Fixture
Power Feed
Size In Inches
(Per Channel)
Color Temperature
Finish
GLD
-
5W
-
EZ12
-
36
-
30K
-
SN
GLD Glide Downlight
GLDB Glide Downlight with
Black Louver
GLDW Glide Downlight with
White Louver
5W 4.4 Watt
7W 7.3 Watt
EZ12 12' Adjustable
Coaxial Cables
(two per channel)
EZ22 22' Adjustable
Coaxial Cables
(two per channel)
36
48
60
72
82
96

*Maximum shipping
length for Chrome
is 84"
*Custom lengths
available
22K 2200K
24K 2400K
27K 2700K
27D 2700K Warm Dim*
30K 3000K
30D 3000K Warm Dim*
35K 3500K
40K 4000K
57K 5700K
2K4K 2000K-4000K Tunable White*
*5W Only
WM Wood Maple
WN Wood Walnut
WC Wood Cherry
WO Wood White Oak
WE Wood Espresso